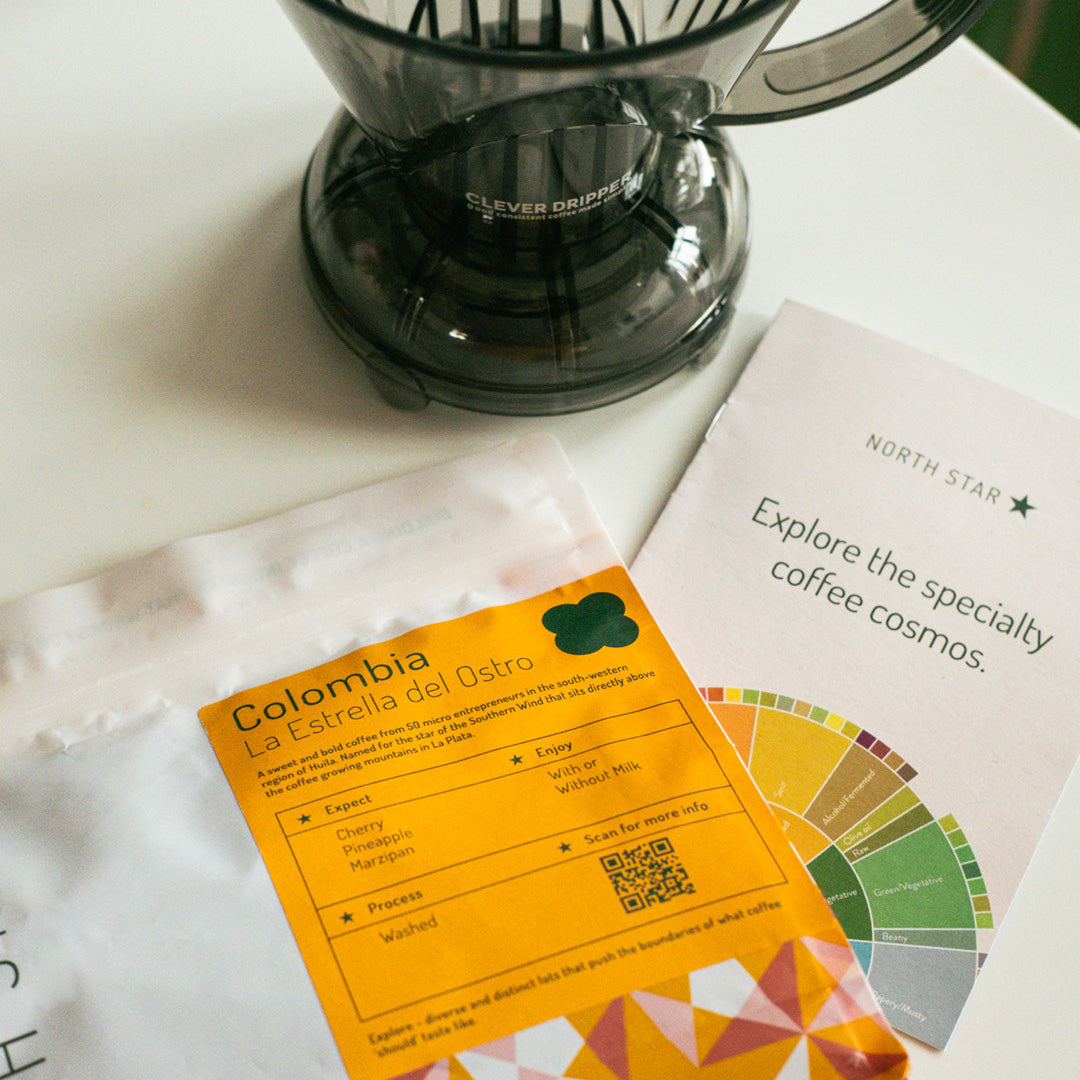 Clever Dripper Filter Coffee Bundle
Explore the galaxy of filter coffee with our NS* Clever Dripper bundle, an all-in-one kit for an exciting coffee experience. The Clever Dripper combines pour-over and immersion methods, offering great control over your brew. With this bundle, you'll receive the Clever Dripper, filter papers, a 250g bag of NS* Colombia La Estrella del Ostro Coffee, a how-to guide, and a tasting guide.
Colombia La Estrella del Ostro is a medium-bodied, juicy coffee hailing from Huila in the southwest. This is a beautifully versatile coffee which we are sure will delight you. We often taste syrupy notes of pineapple, cherry, and a touch of marzipan but get brewing and see for yourself! It will work well both with and without milk offering great balance and character. Uncover the complexities of flavour with our Clever Dripper bundle.

About this product
Discover the galaxy of filter coffee with this NS* Clever Dripper bundle, which includes everything you need to make a delicious brew; The Clever Dripper, filter papers, 250g NS* Colombia La Estrella del OstroCoffee, a how to guide, a tasting guide. Use the SCA Flavor Wheel and tasting guide to uncover your coffee preferences.

Have you been curious about coffee for some time but just haven't known where to start?
Do you have a coffee mad relative who wants to take their game to the next level?
Maybe you just want to brew really tasty coffee as quickly and as easily as possible?

The Clever Dripper is the perfect brewing method whether you are a complete beginner or a certified specialty coffee wizard. It takes the best of paper and metal filter brewing (such as a pour over and French press), combining them to offer maximum versatility in the character of coffee you can craft. It is super user-friendly producing a consistent brew without the sediment you'd often get with metal filter methods. Plus you have full control over brewing variables meaning you can experiment to your heart's content.

In this bundle, we are including on of our most versatile coffees, the Colombia La Estrella del Ostro which is a  full bodied and juicy coffee from the region of Huila. We taste syrupy notes of pineapple and cherry with a hint of marzipan! But as you will discover, you can coax out an array of different characteristics from this coffee whether you're after a juicy filter coffee to enjoy black or perhaps you'd prefer more body with some chocolatey/toffee notes to have with milk...

Simply dial up or down the amount of coffee you use. We have recommended a starting ratio of 15g : 250ml water which will produce a really clean and juicy brew - if you prefer more body then try increasing your dose up to 17-18g : 250ml water.

Happy brewing!
Shipping Info
Delivery Times
Once you have placed your order, you will receive an email to confirm it is being processed and then another one to let you know when it has been dispatched. We are currently operating with 3 working day lead time to process your order once you have placed it. 
Royal Mail 2nd class tracked postage is included for orders over £25. Orders under £25 will add £4.10 for 2nd class tracked postage. Alternatively, you have the option to include 1st class tracked postage for £5.

Operating times are 9am-5pm Mon-Friday. Orders placed after 12pm on Friday will not be processed until 9am Monday morning.
Local Pick Ups
Local pickups take place from the Roastery on Tong Road. Please note our shutter doors will be down for security and temperature reasons but we are always in Monday-Friday between 9 and 5pm – just ring the doorbell on arrival