The El Salvador Project
From idea to impact
Before roasting our first batch of beans way back in 2013, our vision has always been crystal clear. In fact, the inception of North Star came about for the sole purpose of creating a more impactful way of sourcing coffee. The El Salvador project is the first North Star funded origin project designed to support Maria, owner of Finca Margarita, in creating a more viable business model and certain future in coffee.
We value connected and respectful partnerships with our producers to better understand the challenges they face in growing to ensure our approach to buying is future-focused. With the help of export partners Caravela and Maria herself, we created a 3-stage infrastructure improvement project designed to bring about lot separation, better quality and consistency, efficient use of labour, lower emissions and ultimately, greater access to more income.
After years of hard work we are delighted to announce that all three stages have now been completed and we have put together the below so you can learn all about it and taste the results of the projects for yourself!
Watch the video below to hear the full story.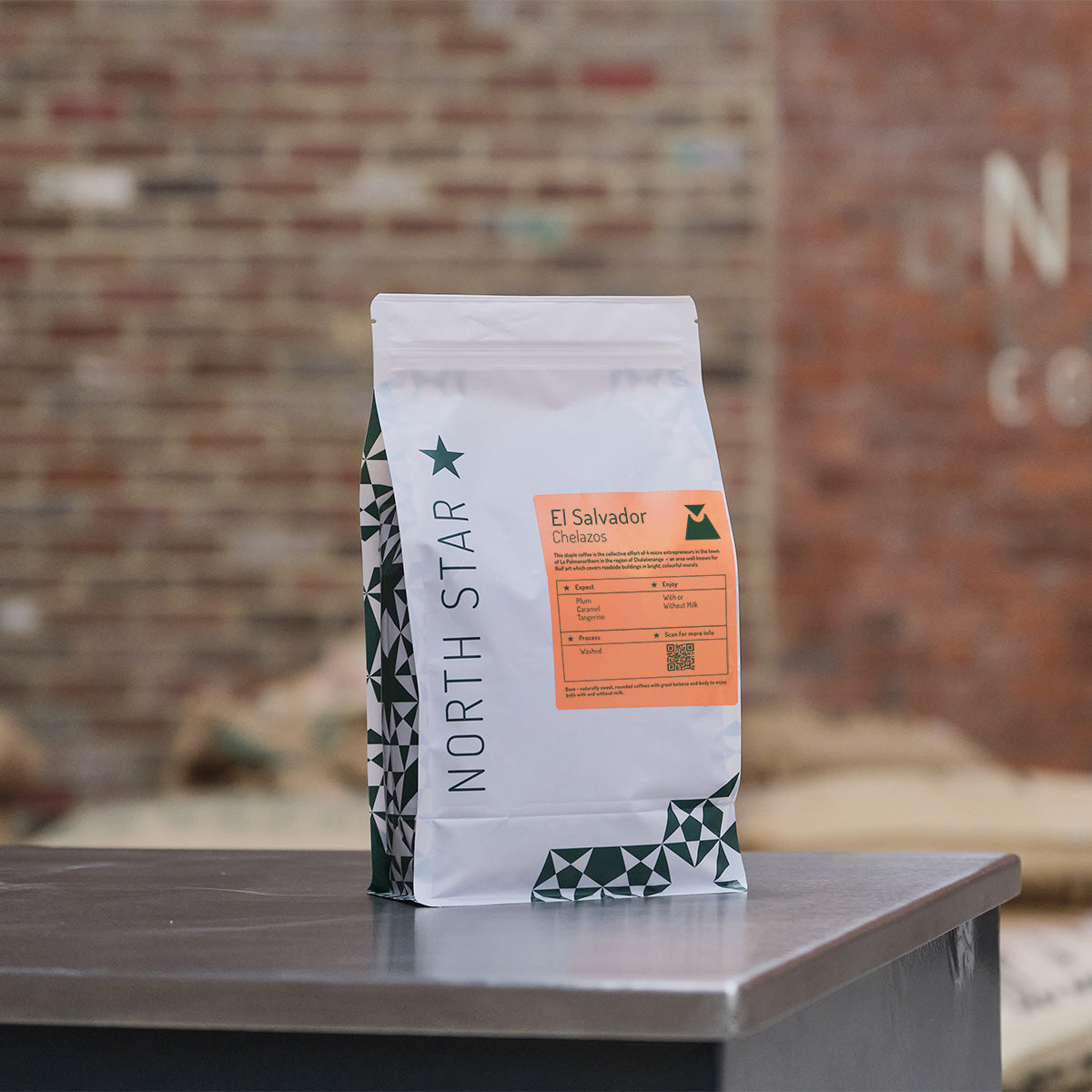 Description
Bean Info
Brewing Suggestion
This staple coffee is the collective effort of 4 micro entrepreneurs in the town of La Palma, which is situated in the lesser known coffee producing region of Chalatenango – an area well known for Naif art that covers roadside buildings in bright, colourful murals.
Expect : Plum, Caramel, Tangerine
Enjoy with : With or Without Milk
Process : Washed

Subscribe and save on this coffee!
From the 22nd of October our pricing will be changing. Read our blog for more information. If you are already on this subscription or sign up now, these prices will automatically update.
Location: Chalatenango, Northern El Salvador
Altitude: 1,400-1,600 metres above sea level
Preparation: Washed
Varietal: Bourbon, Pacas
Owners: Alberto Ochoa, María Zoila Piñeda, Orlando Aguilar, Jose Alfonso Rodriguez
Suited for : Chemex, Espresso, French Press, Pour Over, Stove Top
Enjoy : With or Without Milk

Pour Over
Grind Setting: Medium
Brew Time: 1 minute 30 seconds - 2 minutes
Coffee:Water 16g - 250ml

Espresso
Grind Setting: Fine
Brew Time: 28-31 seconds
Dose:Brewed Weight 16-18g dose : 33-37g yield

French Press
Grind Setting: Coarse
Brew Time: 3 minutes 30 seconds - 4 minutes
Coffee:Water 20g : 250ml

Stove Top
Grind Setting: Fine (slightly coarser than for espresso, finer than an Aeropress)
Brew Time: Dependent on size and heating source
Coffee:Water 22g : 250ml (though dependent on size of Stove Top)

Chemex
Grind Setting: Very Coarse
Brew Time: 5 minutes (for a litre of coffee)
Coffee:Water 70g : 1L
Back in 2017, Hols & Krag boarded a plane bound to San Salvador to explore the possibility of working with smaller producers with the goal of forging a more engaged, impactful and lasting relationship. Their mission was to find a suitable partnership for the coming years to provide coffee that would go on to form an important component of our house blend, The Docks.
With the help of our export partners Caravela, we were introduced to the wonderful Chelazos producing group in La Palma, El Salvador. Not only was Chalatenango a relatively new region for us, it also introduced a different cup profile that was a very happy surprise with more complexity and character than many El Salvadoran coffees we had tried before. We received our first lot in the summer of 2017 and it quickly became a crucial coffee for our business, we therefore wanted to understand how we could be more engaged in this partnership and set about researching the requirement for support amongst the growers we worked with.
The Caravela PECA Analysts helped us gain insight into each producer and to ascertain where we should direct our attention and resources in order to have the most positive impact possible. Lead by knowledgeable agronomist Miguel, the PECA analysts share a close relationship with each producer and have an in-depth understanding of the strengths and weaknesses of each farm. The main focus of their work is aimed at helping producers improve coffee quality and yield.
This research suggested infrastructure improvements were required on Finca Margarita, a small 2 hectare farm owned by Maria Zoila Piñeda and that raised drying beds would be the best place to start.
With only a small patio available for drying prior to the project, this would greatly increase the amount of coffee Maria could dry at any one time along with the control she could have over the process to improve quality and the income she could make from her coffee.
The Problem
Previously, Maria and her team had no choice but to send her harvested cherries down to processing facilities at a neighbouring farm. Outsourcing this aspect of the operation had denied Maria access to a portion of her coffee's income and was limiting her ability to control her coffee's performance in the cup, as well as adding needless emissions to the process by way of the increased transport required.
We knew that Maria had great potential in the beans she was growing, highlighted by the fact that a previous harvest had seen Maria's Pacamara varietal reach scores of up to 90+ on the Caravela cupping table. However, this was unfortunately marked down to the mid 80's due to inconsistencies in the green coffee as a result of inadequate processing and disease, both issues that can be easily rectified with better operational efficiency.
Our Solution
Her patio is now the proud owner of 6 double-level raised beds, which are covered to protect her crop from direct sunlight and lined with a mesh that allows plenty of airflow around the drying seeds. In terms of coffee quality, this new effective and efficient drying infrastructure is predicted to have a really positive impact on cupping scores. Average cupping scores of 84-85 have been calculated for her Pacas varietal with her Pacamara lot expected to reach scores of 87+. Having cupped a sample of Maria's Pacamara offering on our February visit to La Palma in 2019, we are beyond excited to see what the future holds for Finca Margarita.
Given the historical flow of coffee cherries at peak harvest, Caravela have estimated that there is now capacity to dry ALL coffee harvested down at Finca Margarita. Maria can now also expect to produce 12 (69kg) sacks of her Pacas varietal and 6 sacks of her more experimental Pacamara lot, which is a really healthy output from such a small operation.
Overall, this project will not only aid her coffee quality and consistency in production, but will be a monumental improvement to her team's working lives who are no longer unnecessary loading and unloading coffee into trucks creating more efficiency of labour. There is also an environmental positive through removing the need to transport coffee which removes most of the emissions created during production!
What we have achieved so far...
Yield
12 bags of 'pacas' coffee harvested and dried on Finca Margarita – the first year we have been able to get coffee directly from Maria herself.
Quality
Her 'pacas' coffee is beautifully clean and consistent scoring SCA 85 on arrival here in the UK. The smaller 'Pacamara' lot has blown us away scoring SCA 88 and achieving a price premium five times that of the global market at the time.
Education
2 x field school sessions delivered for 7 farmers from across the region covering advanced processing in washed, honey and natural lots.
Current Stage
Stage One - COMPLETED
Improve drying spaces and decrease processing costs, providing more control over the product. This also involved training and on-site visits to guarantee a smooth and successful transition, as we were not only aiming to improve the infrastructure but also quality. This included a moisture meter and training on how to maintain records of drying times, humidity, and temperature.

Stage Two - COMPLETED
Install new fermentation tanks and a brand new high-capacity pulper machine. This will allow the team on the farm to optimize time and reduce the risk of cherry fermentation while it's in coffee bags.

Stage Three
Use bacteria to improve the water treatment system, and adapt a specific site/space on the farm to process the pulp and use it to create fertilizers.
This stage also includes installing tanks to store water
Thank you!
Just look at what you have helped to create from your enjoyment and love of quality, ethically sourced coffee. From the bottom of our hearts, thank you! This is the first in hopefully a long line of North Star funded projects with our producing network designed around sustaining the future of our industry by sustaining those that are vital to it. Our key areas for focus are climate change resilience, female and youth empowerment, gender equity and income diversification. We feel these areas are vital in safeguarding our producing families against what is already happening and also what is to come as the impact of global warming continues to make its presence known across the coffee belt. Not only are we committed to paying profitable prices to our producers for their efforts, we intend to work only in supply chains we can have positive impact within – choosing where possible to work with smaller coffee entrepreneurs over larger estate owners. When small businesses support each other, big and magical transformations can occur and you are a part of that as a member of our #northstarfamily. 
Shop El Salvador coffee