Origin Guide, Central America
El Salvador
Coffee has been grown commercially in El Salvador since the 1850s – it was an important export for the country following the decline of the indigo industry and quickly became the world's fourth-largest coffee producer. Yields were high and there were good relationships with import partners which meant El Salvador built a reputation for its efficiency and quality coffee. The coffee industry contributed towards some of the country's most important infrastructure, though it also assisted in widening the gap between the nation's rich and poor, with landowners maintaining political and economic control.
The industry continued to thrive throughout the 20th century until civil war hit in the 1980s which forced many farmers to abandon their land and coffee trees in order to escape the conflict. Whilst this saw a dramatic fall in production, causing many buyers to look elsewhere, the country managed to retain its fantastic Bourbon trees bringing superior quality in the cup and cementing the country's reputation for high quality. Around ninety per cent of El Salvador's coffee is also shade grown which contributes towards fantastic character and complexity and helps to maintain the country's vast array of plants and wildlife.
El Salvador is a land of volcanoes providing a stunning and dramatic backdrop, fantastic altitude and mineral rich volcanic soil – the perfect combination for the production of outstanding coffee. Traditionally, it is thought the country's best coffee comes from the West and the Santa Ana region which sits amongst the Apaneca-Ilamatepec  mountain range. We, however, believe the northern region of Chaletenango offers some incredible opportunities when it comes to quality and the chance to build long term partnerships with smaller scale growers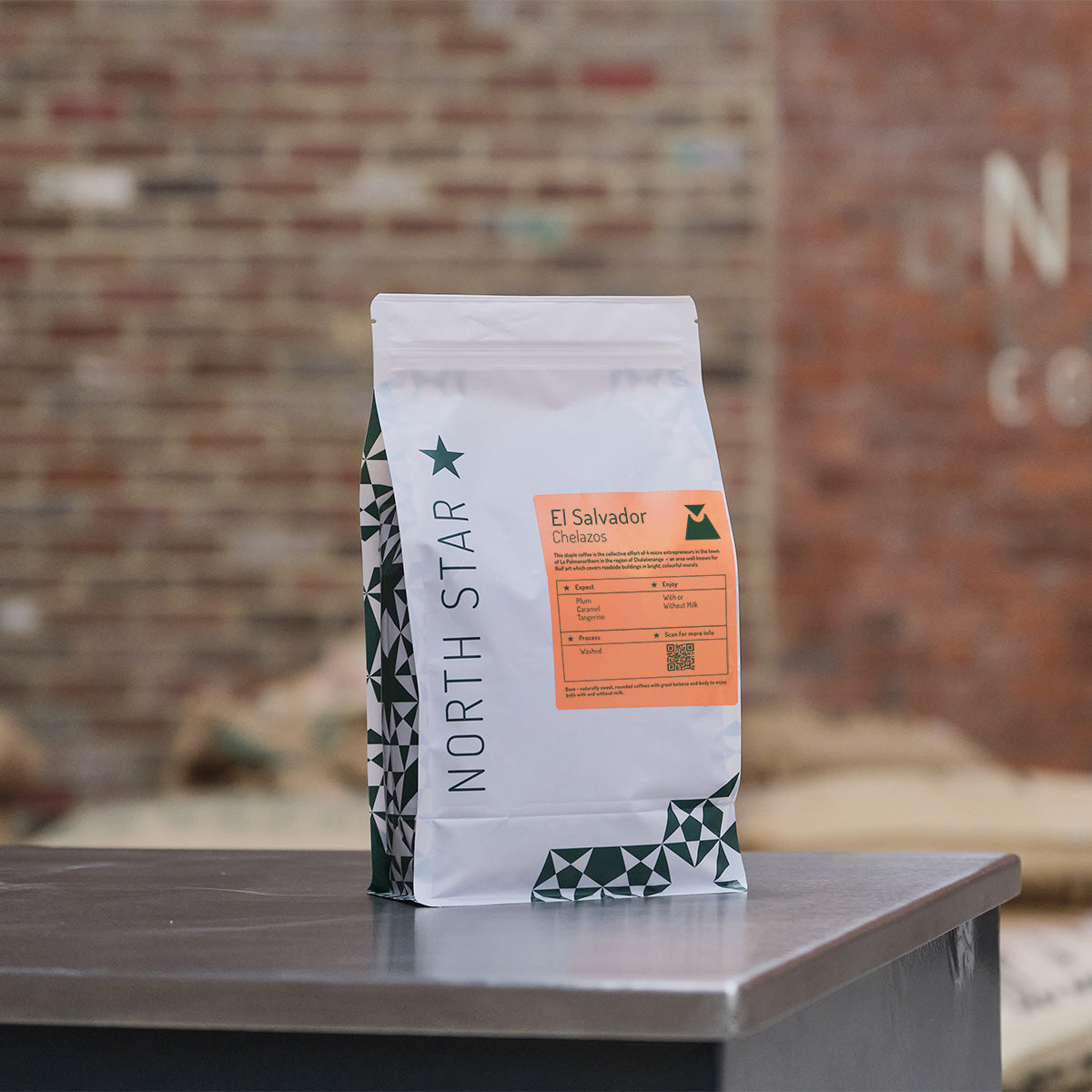 Description
Bean Info
Brewing Suggestion
This staple coffee is the collective effort of 4 micro entrepreneurs in the town of La Palma, which is situated in the lesser known coffee producing region of Chalatenango – an area well known for Naif art that covers roadside buildings in bright, colourful murals.
Expect : Plum, Caramel, Tangerine
Enjoy with : With or Without Milk
Process : Washed

Subscribe and save on this coffee!
Location: Chalatenango, Northern El Salvador
Altitude: 1,400-1,600 metres above sea level
Preparation: Washed
Varietal: Bourbon, Pacas
Owners: Alberto Ochoa, María Zoila Piñeda, Orlando Aguilar, Jose Alfonso Rodriguez
Suited for : Chemex, Espresso, French Press, Pour Over, Stove Top
Enjoy : With or Without Milk

Pour Over
Grind Setting: Medium
Brew Time: 1 minute 30 seconds - 2 minutes
Coffee:Water 16g - 250ml

Espresso
Grind Setting: Fine
Brew Time: 28-31 seconds
Dose:Brewed Weight 16-18g dose : 33-37g yield

French Press
Grind Setting: Coarse
Brew Time: 3 minutes 30 seconds - 4 minutes
Coffee:Water 20g : 250ml

Stove Top
Grind Setting: Fine (slightly coarser than for espresso, finer than an Aeropress)
Brew Time: Dependent on size and heating source
Coffee:Water 22g : 250ml (though dependent on size of Stove Top)

Chemex
Grind Setting: Very Coarse
Brew Time: 5 minutes (for a litre of coffee)
Coffee:Water 70g : 1L
Strengthening climate resiliance in El Salvador
It is the first North Star funded project designed to support Maria Zoila Piñeda - the producer behind Finca Margarita. With the help of export partners Caravela and Maria herself, we created a 3-stage infrastructure improvement project designed to bring about lot separation, better quality and consistency, efficient use of labour, lower emissions and ultimately, greater access to more income.
Disover more