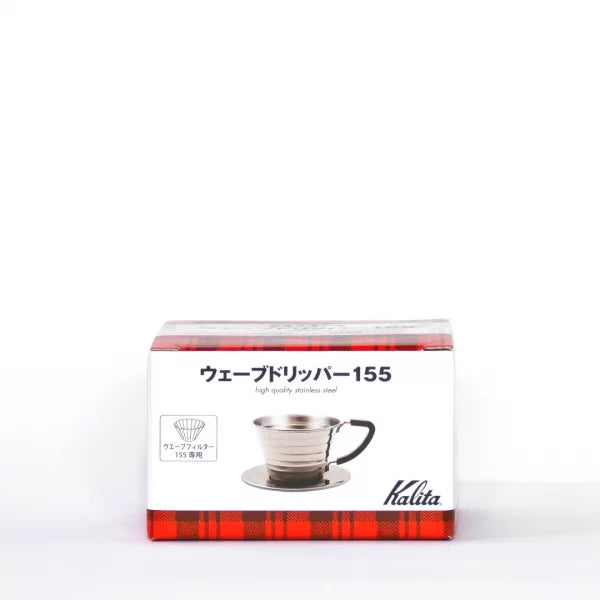 Kalita Wave Stainless Steel Coffee Brewer
What's this? Another filter brewer that looks kind of like the V60?! Surely it can't be too different...
Ahaha! You might think not but there is a pretty major difference to your brewing results brought about by either the conical shape of the V60 or the flat bottom of the Kalita. This flatter base to this brewer really helps to ensure even coverage of the water over the coffee grounds which of course assists a more even extraction bringing about a brew with more balance. It is also made from stainless steel which is great for heat retention whilst brewing.
The filter papers used with this brewer are also 'waved' which helps to regulate a gentle water flow onto the ground coffee again changing the way the brew will extract. It is sort of like a mini version of the large commercial batch brewers which are famed for their consistency.
One thing it does have in common with other similar devices is its ease of use. It is so simple to keep clean, when you are done brewing simply discard your filter and used coffee grounds into your compost or bin - no need to cover your sink with pesky remnants of your coffee!
We have the 155 model which brews the perfect amount for one cup between 250-500ml. There is loads of info available online about how to get the best from this brewing device but it is very similar to the V60 in terms of grind size/brew time and coffee:water ratio.
Shipping Info
Delivery Times
Once you have placed your order, you will receive an email to confirm it is being processed and then another one to let you know when it has been dispatched. We are currently operating with 3 working day lead time to process your order once you have placed it. We are offering free shipping for orders above £20
Local Pick Ups
Local pickups take place from the Roastery on Tong Road. Please note our shutter doors will be down for security and temperature reasons but we are always in Monday-Friday between 9 and 5pm – just ring the doorbell on arrival