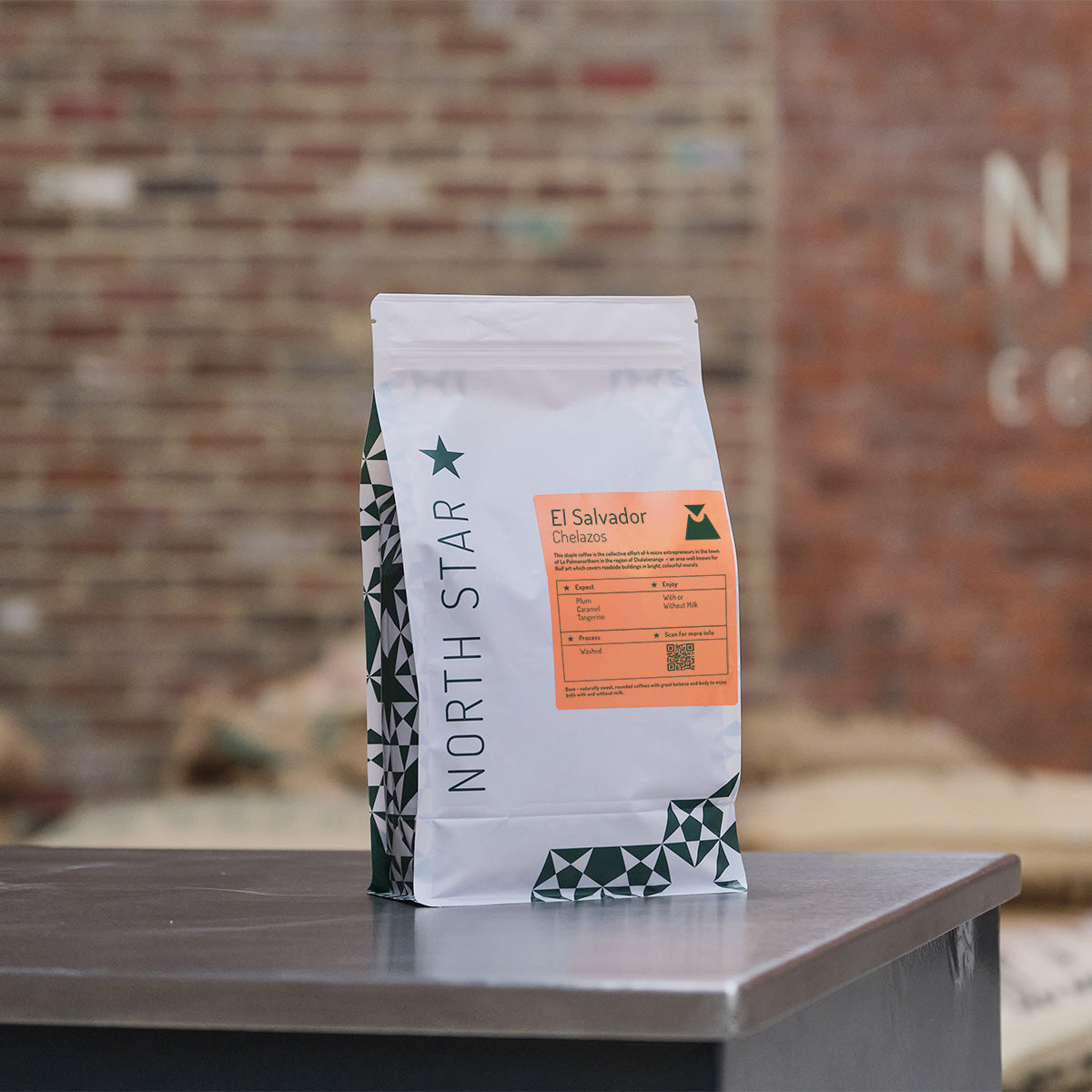 Description
Bean Info
Brewing Suggestion
This staple coffee is the collective effort of 4 micro entrepreneurs in the town of La Palma, which is situated in the lesser known coffee producing region of Chalatenango – an area well known for Naif art that covers roadside buildings in bright, colourful murals.
Expect : Plum, Caramel, Tangerine
Enjoy with : With or Without Milk
Process : Washed

Subscribe and save on this coffee!
Location: Chalatenango, Northern El Salvador
Altitude: 1,400-1,600 metres above sea level
Preparation: Washed
Varietal: Bourbon, Pacas
Owners: Alberto Ochoa, María Zoila Piñeda, Orlando Aguilar, Jose Alfonso Rodriguez
Suited for : Chemex, Espresso, French Press, Pour Over, Stove Top
Enjoy : With or Without Milk

Pour Over
Grind Setting: Medium
Brew Time: 1 minute 30 seconds - 2 minutes
Coffee:Water 16g - 250ml

Espresso
Grind Setting: Fine
Brew Time: 28-31 seconds
Dose:Brewed Weight 16-18g dose : 33-37g yield

French Press
Grind Setting: Coarse
Brew Time: 3 minutes 30 seconds - 4 minutes
Coffee:Water 20g : 250ml

Stove Top
Grind Setting: Fine (slightly coarser than for espresso, finer than an Aeropress)
Brew Time: Dependent on size and heating source
Coffee:Water 22g : 250ml (though dependent on size of Stove Top)

Chemex
Grind Setting: Very Coarse
Brew Time: 5 minutes (for a litre of coffee)
Coffee:Water 70g : 1L
El Salvador
It is the first North Star funded project designed to support Maria Zoila Piñeda - the producer behind Finca Margarita. With the help of export partners Caravela and Maria herself, we created a 3-stage infrastructure improvement project designed to bring about lot separation, better quality and consistency, efficient use of labour, lower emissions and ultimately, greater access to more income.
This Coffee's Story
Back in 2017, Hols & Krag boarded a plane bound to San Salvador. Their mission… to find a suitable farm to partner up with over the coming years whose coffee would go on to form an important component of our house blend. Having previously sourced coffee from the well-known producing region of Santa Ana in the West (it's large estates famed for producing many a Cup of Excellence winning coffee) they wanted to explore the possibility of working with smaller producers with the goal of forging a more engaged, impactful and lasting relationship.

Fast forward to present day and they were clearly more than successful in said mission. Discovering an amazingly consistent and unbelievably tasty coffee that has gone on to become a North Star best seller. Chelazos is sourced from an incredible group of hero producers who are committed to principles of Specialty coffee production in the lesser known northern region of Chalatenango. Alfonso, Maria, Jose and Orlando's coffee gets better each year and we are committed to purchasing their full production of specialty grade coffee due to the admirable dediction to their crop and love for the ecosystem they reside in. The Chelazos Finca's may be smaller in stature than larger, more established operations but they are run by micro-entrepreneurs who are just as driven and strive to increase quality and better their harvest year on year. Chelazos is not just a co-operative, it's a coffee community where ideas for best practice are shared and support is available in abundance.

Their coffee is high grown in comparison to much of El Salvador and as such experiences a later harvest. Another unique factor is that the coffee is washed on site as opposed to being taken to a centralised wet mill. This means the producers themselves can maintain control over the flavour profile and quality of their coffee and they are invited to cup each lot at Caravela's lab in La Palma to receive feedback from the expert cuppers there. The farms that have contributed towards this lot are beautiful and are run with care and consideration for the environment and farm workers.

This most treasured of partnerships has also allowed us to establish our first ever impact-led Infrastructure Project – a dream long in the making and finally realised thanks to the blissful and fruitful partnership we've had with our Chelazos friends since 2017. To finally be able to give back to one of our producing partners, in a way that's about more than just purchasing coffee is something we are immensely proud of. You can read more about this project and learn how the improvements will benefit Maria's farm Finca Margarita in terms of coffee quality, consistency in production and yield by clicking the link below:
Shipping Info
Delivery Times
Once you have placed your order, you will receive an email to confirm it is being processed and then another one to let you know when it has been dispatched. We are currently operating with 3 working day lead time to process your order once you have placed it. 
Royal Mail 2nd class tracked postage is included for orders over £25. Orders under £25 will add £4.10 for 2nd class tracked postage. Alternatively, you have the option to include 1st class tracked postage for £5.

Operating times are 9am-5pm Mon-Friday. Orders placed after 12pm on Friday will not be processed until 9am Monday morning.
Local Pick Ups
Local pickups take place from the Roastery on Tong Road. Please note our shutter doors will be down for security and temperature reasons but we are always in Monday-Friday between 9 and 5pm – just ring the doorbell on arrival
Packaging Info
Letterbox Friendly
If you order 1-2 x 250g bags of coffee, they will be sent in a letterbox friendly package so that you do not need to be in to take receipt of your coffee.
100% Home Compostable
Our 250g bags are 100% home compostable including the valve, seal and sticker! They will degrade in 6 months in a well managed home compost.
1kg Recyclable LDPE 4
Our 1kg bags are currently in LDPE plastic - some councils will recycle this for you, if you are unsure simply take it to your local supermarket with your other plastic packaging.
Customer Reviews
Really Beautiful Coffee
Delightful flavour and really well roasted. I was super happy with the versatility while I was away with some friends. Sadly I left the bag at the airbnb and it wasn't returned to me but would definitely order again
Excellent! My daily driver coffee
Absolutely love this brew in the morning. Would recommend to anyone. Tastes great through a V60 and Aeropress. Fab
Delicious
Lovely coffee. Flavourful and tasty.
Coffee comparison
Ordering and delivery were first rate. The El Salvador coffee we did not enjoy as much as the Brazilian, the aftertaste was slightly sour